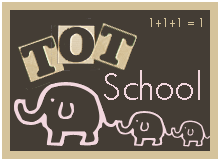 We had a great week of tot school! Noah had lots of fun enjoying crafts and activities themed for Christmas, and I also incorporated a new color box appropriate for the season.
I changed Noah's color box to RED this week. He had lots of fun exploring the different items I found to put in there. Here is a shot inside the box, although a few things were being played with..
I'm so happy that Noah enjoys this, and I plan to keep doing it indefinitely. Even when I get through all of the main colors, I'm going to go back and start over again. Right now I just like to expose him to the idea of different colors, and then when we redo them over and over I hope he'll be able to do more identifying.
Using red is also great for the Christmas season! I plan to continue with red next week, then switch to green for the week of Christmas and the final week of the year.
Seasonal Theme: Christmas FUN:)
Though Noah did a few tot school activities that weren't Christmas themed this week (MegaBlok building/pretend play, pompoms into different containers, etc), I didn't take any pictures of those. Our main focus was on Christmas activities!
I used similar holiday erasers during Halloween for Noah to practice fine motor, one-to-one, and sorting, so I found some Christmas themed ones to use for this time of year.
He loves putting them in and out of an ice cube tray. I tried to have him use various utensils to transfer them, but he preferred his fingers. He also preferred NOT to sort or do one-to-one...whatever makes him happy, though, right? :)
I also printed out several items from Carisa's
Christmas Tot Pack
. Noah did fairly well matching the trees...
Remember, last week he shocked me in correctly matching all of the Brown Bear Tot Pack heads & tails...but I think the trees were a bit too advanced for him. The patterns are much more subtle. He still got several right without any help though:)
I bought out a few other of the tot pack pieces, but he wasn't too interested...which is okay, because we still have two weeks to use them! Only I really need a laminator so Noah quits destroying the pieces....maybe I'll hit an after Christmas sale:)
Noah did several Christmas crafts this week too. First, we made a paper plate wreath. I've seen this several places (I forget where first..sorry!), and I thought Noah would really enjoy it.
First, he finger painted (about 1/4 of the plate) green...no pictures as this required supervision and assistance:) Then, he glued red and white pompoms and torn yellow paper to it. He did great with the pompoms, but had trouble with the paper...he didn't like the glue on his fingers.
Last, we glued a "bow" to the top. This is now proudly displayed on Noah's Granny's refrigerator per her request for some Christmas art:)
Noah also helped make a hand & foot print reindeer. He helped me glue the wiggle eyes on and made his fingerprint for the nose..
And please excuse the fact that the reindeer is black with green antlers...my construction paper pack has no brown paper at all?!?!
As usual, Noah enjoyed his books this week! I introduced a new style of book though...i-spy books (Christmas themed, of course!). Noah LOVED these! And he did really well in identifying some of the objects in this one..
Noah's Granny also gave him a big Christmas i-spy book. He mostly looked at the pictures in this one..
Some of Noah's other favorites from the week included:
(the other book is at his Granny's house, so I'll share the title later..I forget it right now!)
The last fun thing we did for the Christmas season was have a Christmas themed meal. I love the Muffin Tin Monday theme ideas, but I don't have any mini muffin trays for Noah to use. I did find some cute trays at Target, though, so I did a themed lunch one day.
From top right to bottom: Christmas tree cheese; Rudolph noses (cherry tomatoes); Christmas stars (marshmellow stars...for desert!); tree sandwiches (grilled cheese & avocado); and a Santa Smoothie (I used greek yogurt, whole milk, a banana, the rest of the avocado, blueberries, and a pear)
Noah loved it all but the tomatoes:) I tried to sneak those in, but he just wouldn't have it! Otherwise, though, he cleaned his plate & his cup!
In the same regard, Noah has suddenly become SUPER independent at mealtime. He refuses to eat unless he can feed himself...including using a spoon. He has become much more proficient in the last week, and only requires minimal help from me. He has also learned how to take bites out of larger pieces...like sandwiches and such. So I guess you could consider this as Life School activities....its just hard to believe how BIG Noah is becoming, and how much he changes everyday:)
That's all we've got for this week! See what others are up to at Tot School...hosted by Carisa at
1+1+1=1
!