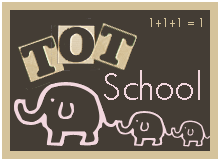 We didn't have the best of weeks around here...Noah just wasn't into the activities I had planned. Actually, we redid everything from last week, with just a few new things added in, but even his favorites from before seemed to fall flat this time. So I don't have a ton to show, and nothing is super creative or anything. But that's okay...sometimes weeks are like that!
Noah made several new art projects this week to give away as Valentines for our family. I let him have
totally
free reign with the finger paints (I usually somewhat supervise), and he had a blast! He used several different tools for painting throughout the week, including his hands, pipe cleaners, and various utensils. He did such a great job not slinging the paint everywhere too....he has a tendency to get a little wild when he gets going with some things (paint included).
Here is one of the pictures he made for my mom. I helped him make some good hand prints, but he painted a page on his own to make the base, as well as put the stickers on himself following my directions. Granny loved it by the way:)
He made several other Valentines, including another super cute "flower bouquet" for Mimi (my grandmother), but I forgot to take pictures of those before they were delivered. Everyone really loved their keepsakes though!
This homemade book was an idea from
April Showers
. I LOVED this idea, and thought it would be a great way to review names and colors. I used the book several different ways:
**lay the pictures out and let Noah find the different people/colors (point to them, put a marker on them, etc)
**ring clip the pages together and have him flip to find the different people/colors
**match colored objects to the colored hearts (this was hard for him, I think because of the other pictures)
I tried using smaller pieces of pipe cleaners for Noah to put in a spice container. He did so well with this, and really loved this activity! He also enjoyed trying to take the top off/on of the container (as the picture shows), but he hasn't mastered twisting rather than pulling the tops yet.
I also thought Noah would enjoy spooning some different objects this week. Giant sweetheart candy was not a favorite though. The hearts were hard to scoop up into the shaped spoon, so he preferred to transfer the candy with his fingers. This did prove to be a good opportunity for color review, but Noah had a bit of trouble with the pastel colors.
If you can't see in the last picture, Noah got a MAJOR boo-boo this week. He slipped on the hardwood in his jammies and face-planted into a rocking chair. The bottom part where all the bars and screws and such are. He got a BIG pop knot over his eye plus a scrape.
But he was a trooper! And he proudly displayed his battle scar at church this morning too:)
Crazily enough, we got our THIRD snow hit this weekend. More is predicted over this week too. This is so unusual in NC...talking to my brother in Michigan, we've actually gotten more snow this winter than he has! We're all pretty tired of it honestly. Noah wanted
nothing
to do with it when we ventured out Saturday morning...
I'm right there with ya buddy! I'm desperate for flowers, green grass, and sunshine!
And one last picture....I'm really trying to allow Noah more autonomy and decision-making opportunities. On days we're home, I'm beginning to let him choose his clothing. This was one particular ensemble he chose this week...
Actually, he just chose the Aerosmith t-shirt and his hat, but I thought long sleeves and pants were in order since it is February:)
See what others are up to, and share your own ideas for Tot School at
1

+1+1=1!